<![if !vml]>

<![endif]>
<![if !vml]>

<![endif]>
FS2x.com Installation
The installation details for FREEWARE hosted on the freeware pages at FS2x.com
are normally given in a text file in the downloaded freeware file.
These instructions are for PAYWARE products downloaded from FS2x.com.
(These instructions will use the fs2x G1000 product as the example.)
1) Find the product file you downloaded with a zip extension. For example,

2) Use an 'unzip' program such as
Winzip (Version 9.0 or higher) or 7-ZIP to open the file. Both programs are free on the internet.
(NOTE: Previous versions of WinZip and many other unzipping applications will not support the encryption levels.)
3) Extract the product file to a temporary folder, such as that shown below, by clicking on the Unzip Now button.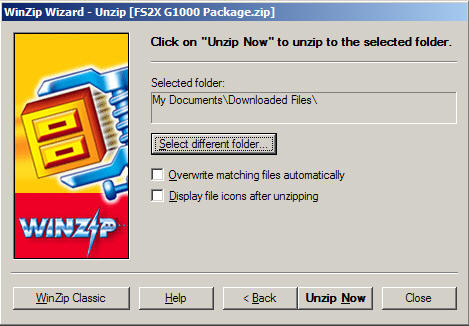 4) Enter the password in the Decrypt box that appears (see below). and click OK. The case sensitive password is the password listed on the purchase Confirmation Page (see Order FAQ page) that you saved and stored in a safe location.
NOTE: Each product will have its own individual password. This is a 12 digit combination of numbers and letters (upper and lower case). The letters are case sensitive.
5) The extracted file will contain self-installation programs specific for FS9 and FSX (see below). Double click on the appropriate icon and follow the instructions to install.

6) Make sure to 'point' the browser to your FS root installation when prompted.

Thank YOU for purchasing an FS2x.com product

|

TOP

| HOME |

PAYWARE

|

FREEWARE

|

FORUM

|

ORDER FAQ

|

FS2x.com © 2005-2010 by FS2x All rights reserved.