<![if !vml]>

<![endif]>
<![if !vml]>

<![endif]>
FS2x.com FAQ
Ordering and Payment FAQ
How does the purchase process work?
The purchase process is as follows and is very straightforward:
1) Click on the button on the left panel or on one of the pictures of your product choice. This takes you to the product's main page.
2) Click on the 'product download button' and download the product. Each product is 256-bit password protected and can not be opened without the password.
2
) Click on the PayPal button on the same page. Follow the PayPal procedure.
3) When the payment procedure at PayPal is completed, PayPal will direct you to an FS2X confirmation page confirming that you have paid. See example immediately below.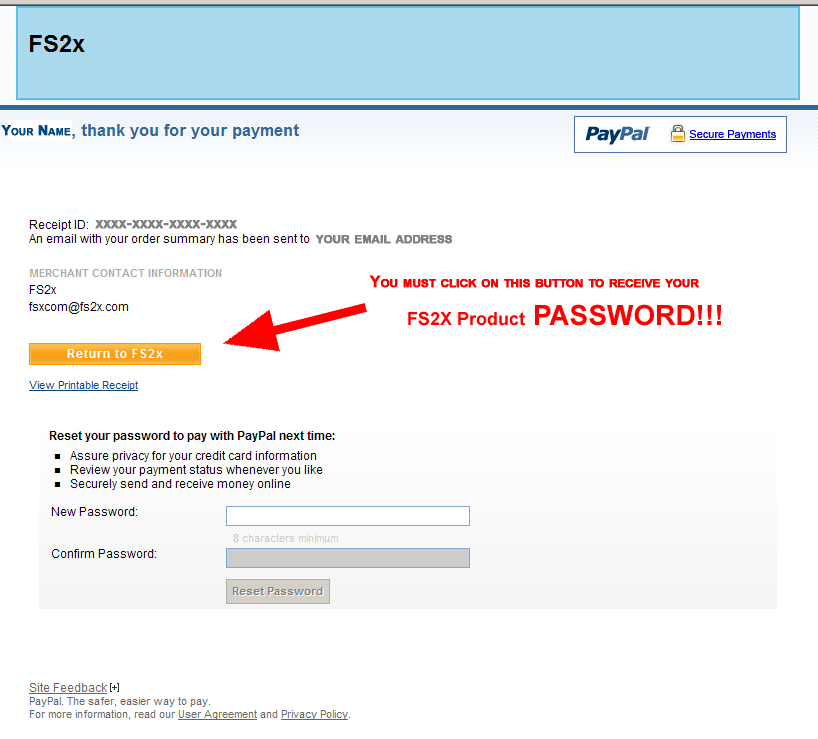 4) In addition to confirming your purchase, the confirmation page contains a link to the password required to open the product.
5) THE CONFIRMATION PAGE IS A VERY IMPORTANT ITEM TO SAVE! It lists the password and all upgrades or other changes to the product will be distributed using this page unless otherwise notified. It will also allow you to re-download a product if you lose it.
6
) Now go to the Installation Instruction page. Please note that during the installation process, the password is required. Ensure the password is entered correctly, noting any letter case (upper or lower case).
Who is PayPal?
Orders are processed by PayPal, a global leader for online payment. PayPal is one of the best known online payment systems in the world, and if you already have an account with them you will find it quick and easy. You can now pay using PayPal without having to open a PayPal account.
My currency is not shown in the price list?
This should not be a problem. PayPal allow you to purchase using a variety of currencies. On the Payment Details page, they show you the current exchange rate and the equivalent amount in your primary currency. When you pay, the conversion is handled automatically.
Ordering confirmation?
An order confirmation email is sent on completion of your order. Please ensure that you give a working email address.
If you have any problems, please use the Forum or email fs2xcoma@fs2x.com
ALL SALES ARE FINAL. Due to the nature of the software products downloaded, products are not returnable. Strictly no refunds will be possible through any of our vendors or via PayPal.

|
TOP

| HOME |

PAYWARE

|

FREEWARE

|

FORUM
|
INSTALLATION
|
FS2x.com © 2005-2010 by FS2x All rights reserved.